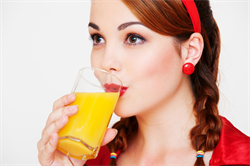 The charming taste you will fall in love with
The flagship of our first taste is 100% Frutex fruit juice. Frutex juices are full of Spanish sun, vibrant colors and lots of energy that underscores a unique and refreshing fresh taste. Juices are hearty and sweet ... but these sugars come only from the used fruit! Also no dyes, no preservatives and no concentrates! Vitamins and natural nutrients make Frutex juices a sweet natural medicine.
Gazpacho drik is a fresh vegetable drink. First regular vegetable juice in the market. It is the most delicious ideal snack that will refresh you and make you feel good. Gazpacho drink is light and powerful ... liquid minerals and vitamins in a glass bottle. When there is little time, Gazpacho's drink is definitely a great friend. And the taste ... totally original.
Other products such as olive oil, potatoes, potatoes, etc. are processed with the same philosophy as Frutex fruit juice and Gazpacho drink of vegetable juice. Premium ingredients, no more ingredients and great taste!